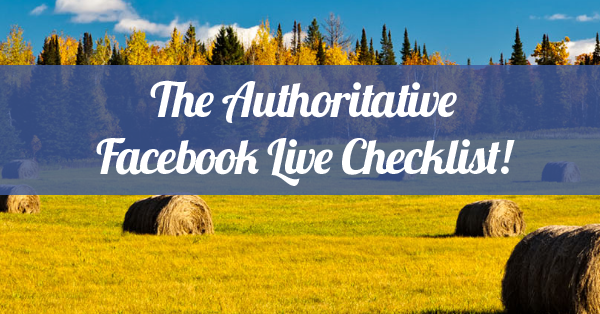 This checklist will make sure you have all the crucial details in one place and will walk you through all the steps.
This cheat sheet distills all the information found in Facebook Live Authority in a format that is easy to follow and easy to pin to your notice board!
But first let's start with …
The Importance of Facebook Live
Here are some stats that will remind you why you'd want to be active with Facebook live and why it's such a big deal…
Facebook today has over 1 billion users logging in daily.
There are more than 1.39 billion users on Facebook Mobile alone
There are over 300 million photographs on Facebook
And the average American spends 40 minutes on the site
Facebook's algorithms have been tweaked to 'favor' live video. This content is more likely to show at the top of a home feed than a photo or a regular video.
Periscope has well over 10,000,0000 user accounts
And over 40 years' worth of footage
Periscope got tweeted about over 60k times when it launched
Periscope was bought by Twitter for $100 million
2 million users on Periscope are active every single day
Blab users spend over 65 minutes a day watching videos on average
In 2015, YouTube live-streamed E3 and had over 8 million views in 12 hours
In six months, Facebook Live had over 246,000 live streams
Together, these videos garnered over 5.7 billion views
Mark Zuckerberg is reported saying he is 'obsessed' with Live Video!
How To Create Video
So how do you create live video on Facebook as a marketer? It's actually extraordinarily simple. Just:
Log in to Facebook
Head over to your Facebook page
Click to post something new
Tap the live stream icon
Write a description
Hit 'go live'
You can tap the icon in the top right in order to switch between the front and rear camera
You can see new viewers logging in and respond to comments and likes
There are some other ways you can use Facebook Live as well. For example:
Post to your personal profile and you can choose who gets to see your feed

Anyone
Just your contacts
Just your close friends/friends from a particular group
Just you

Post to a private group so that only those who are in the group see the video.
Advanced Facebook Live Features
There are also some more 'advanced' features to consider:
Visit the 'Facebook Live Map' in order to see content that other users have created. This can be a great place to get inspiration.
Add a 'call to action' button at the end of your video. This will work particularly well if you also verbally include a call-to-action at the end of the video.
Your videos will stay on your page long after you've created them and you'll then be able to 'edit' them by changing your thumbnail and adding annotations etc.
Best Practices for Creating The Best Content On Facebook Live
While it's really up to you what kind of content you're going to create on Facebook Live, there are some tips that can help your content to perform as well as possible.
These include:
Always ensuring you have a good connection
Choosing a great description for your video so that it stands out and sounds interesting
Asking people who are watching to follow you if they're enjoying your content
Welcoming people who tune in
Responding to comments
Using a high quality camera phone and mic
Speaking clearly and slowly
Thinking about lighting and backdrop – don't let the background distract from the content!
Recapping what you're discussing for viewers just tuning in
Think about the acoustics in the room.
Looking for more Resources On the Facebook Live?
Types Of Content
There are also some particular types of content that perform especially well and are well suited to the platform:
Voyeuristic content and vlogging – Let your viewers get to know you by sitting in on your workouts or hearing your thoughts over your morning coffee
Events and trips – Let your viewers attend concerts with you or conferences. If you're hiking through the Swiss alps, let your viewers see this too!
Reviews
Interviews
AMAs
Seminars
Lessons
Top 10s'
Sales Funnel
A sales funnel takes this one step further by getting people gradually more involved in what you're doing and getting them more and more likely to want to buy.
A sales funnel will ideally include five "touches" — that is five interactions with your potential audience. This can take the form of:
Blog
Email newsletters
Free online webinar
Cheap product
Expensive product
Each of these things will promote the next thing on the ladder and each time the user takes a step they become more actively involved and more likely to spend money with you.
Another example is to use a free report which you can deliver by email.
Cheap products are an important step to get people used to the idea of spending money through your payment portal before they're asked to spend something big …
That's the entire blueprint, so now all that's left is to make it happen!