As part of my effort to keep up to date with things that happening in our industry (affiliate marketing et al) I occasionally sign up with related online forums.
One of these forums is the affLIFT Forum which is owned and run by Luke Kling – a marketer himself.
☝️ You may also know Luke (depending on how long you've been around the CPA Affiliate Marketing scene) from his days with PeerFly affiliate network
By the way, it is important – in my view – the owner(s) of forums et al to know and have done things in the same market themselves. This is because they understand the challenges (they've pretty much faced the same ones) and can help.
I've been meaning to do a review on my blog as I've been "using" affLIFT Forum for some time now.
Actually I've been a full member since 2019 and have been relatively active (when time permits).


So I thought to share with you what I like (& what I think it can be improved) in case you're looking for a place to get some help with your affiliate marketing efforts and you're not ready (or don't want) to go the 1-on-1 coaching route.
Let's start with what I like (a lot) about affLIFT Forum…
"Follow Along" Threads
A very cool feature of affLIFT Forum is what's called the "Follow Along Campaigns".
Basically a follow along campaign is a normal forum post where you sort of state …
"Hey all, I am going to try this and am posting it for all to see as am looking for some accountability."
Sort of like "take a look on What I'm doing wrong/What I'm doing right feedback"
But more important than that is that these threads are an excellent way to get eyes on your campaigns from the more experienced members in the forum.
That basically means (more often than not), you end up with personalized help from people who've been there and done what you are trying to do, before (and done successfully).
There are people I know who were struggling to get any traction with affiliate marketing and after doing one of these "Follow Along Campaign" threads…
Went from $0 to $1k in profit within a few months.
Like this guy here: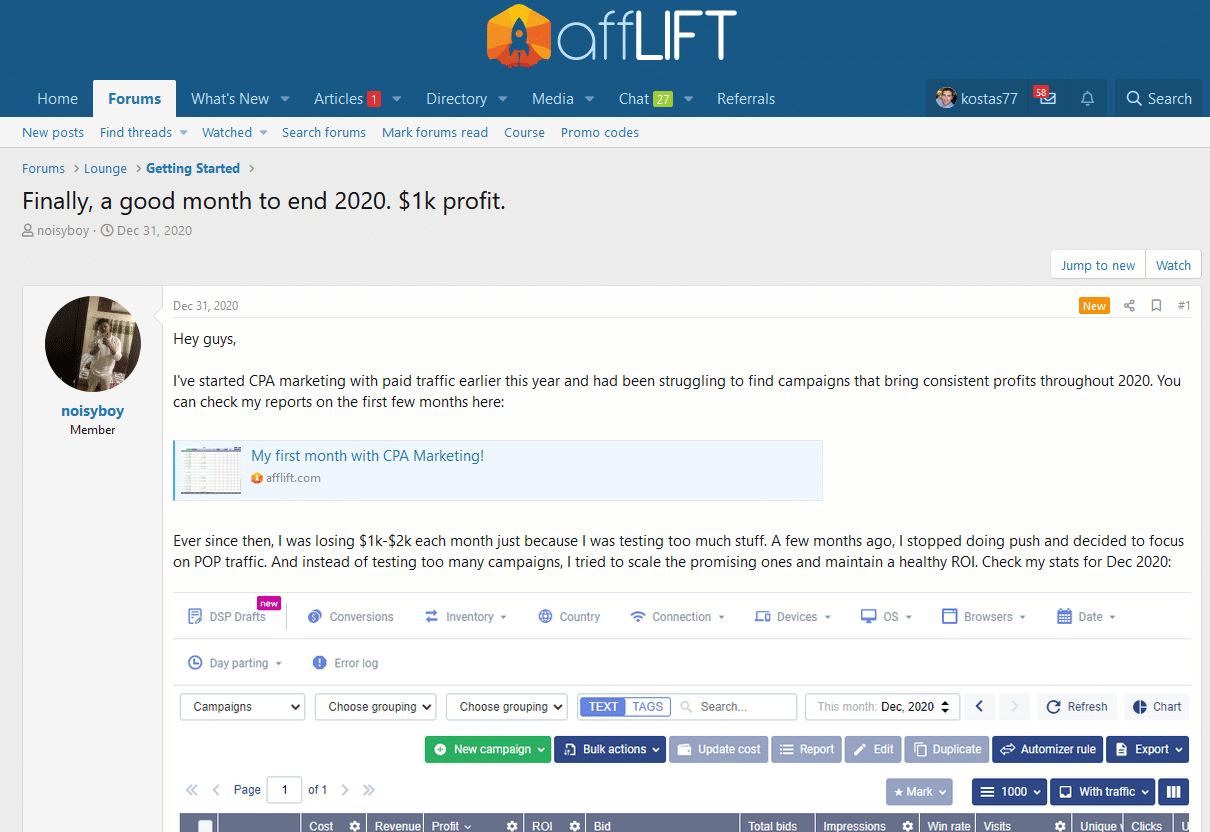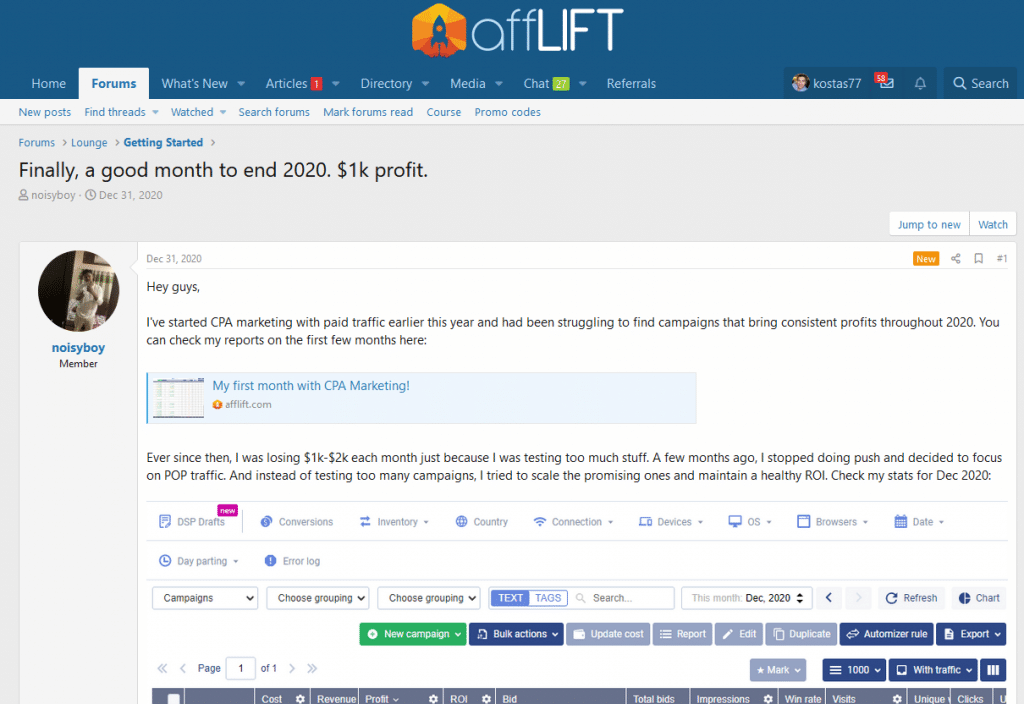 There are many more examples like that inside the forum.
I personally think this is the best "feature" of affLIFT Forum and one that you can easily call Priceless.
And what's even cooler is that everyone who is a member gets the opportunity to post a "Follow Along" thread.
Regardless of their experience!
Tools Of The Trade
Another area of affLIFT Forum that I find of excellent value is the Tools section.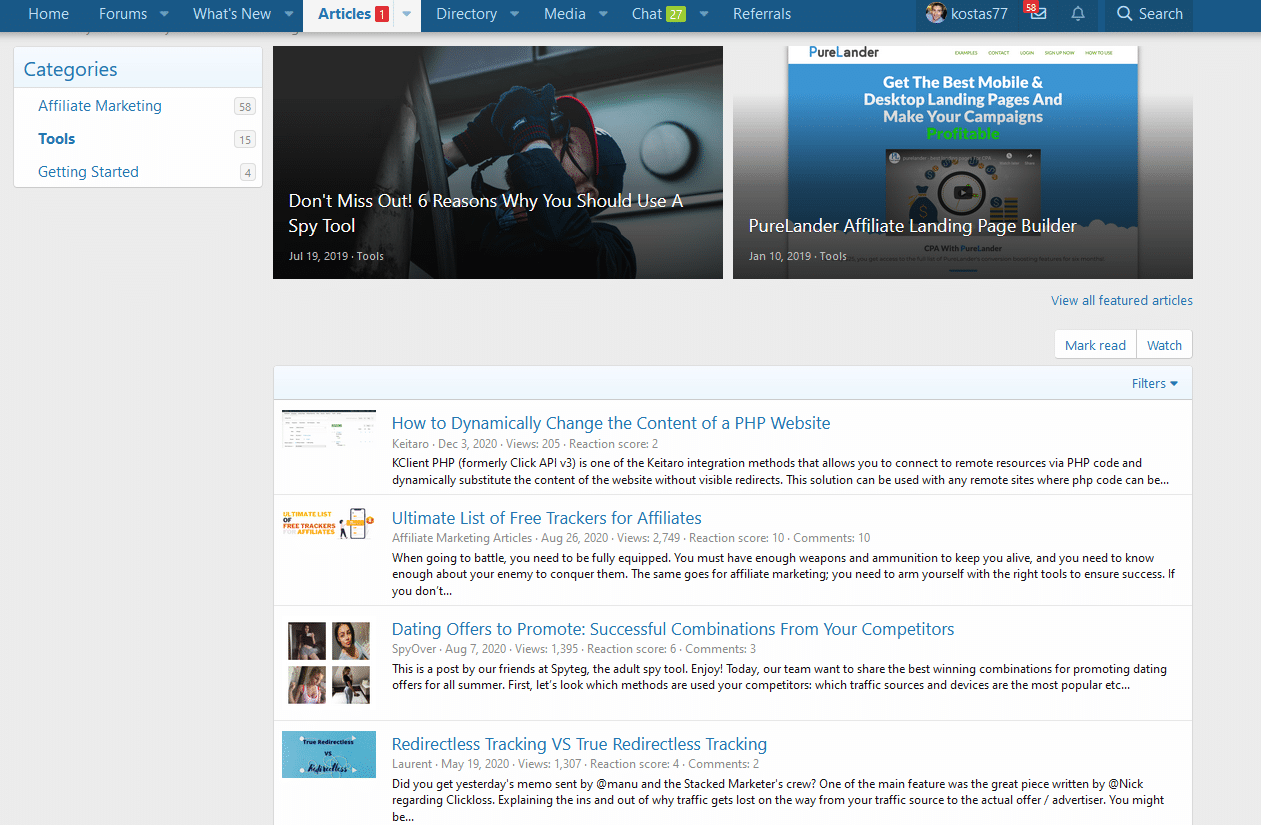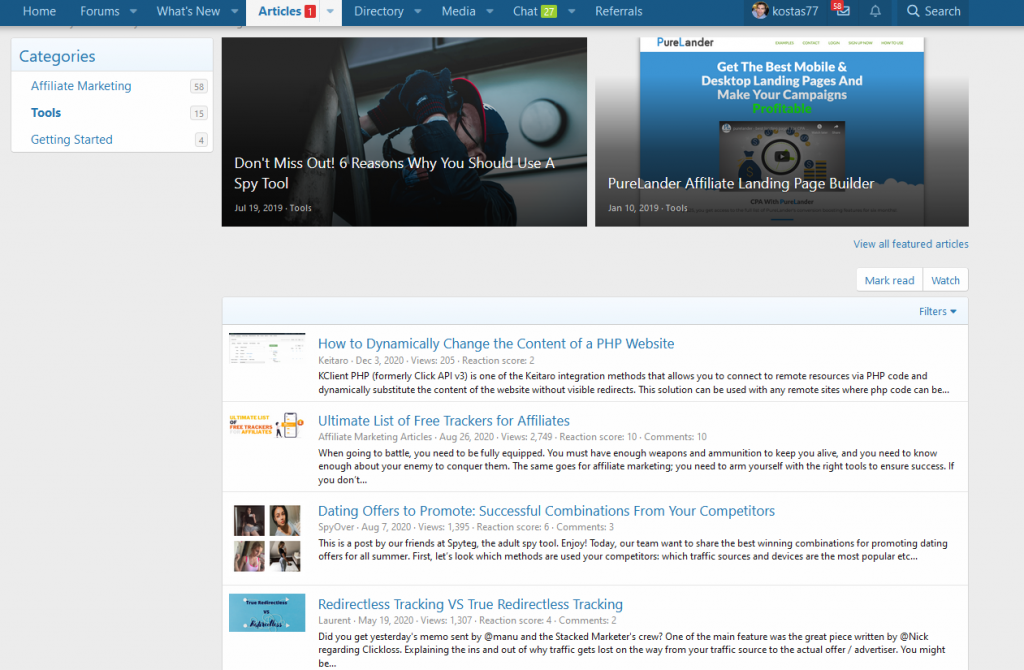 This is an area where you get to learn how to use almost all the key tools that exist in the scene and can help you with Affiliate marketing.
Tools of the trade so to speak.
From spy tools to scripts for changing content on the fly using PHP and so much more.
While this section will appeal to the more tech experienced people, I think even new people to the scene can take advantage of the information found in this section.
For some of the articles/posts here you'd need to pay anywhere from a few hundred to a few thousands of dollars to a developer to do some of these things for you.
And because people posting about these tools are also in the forum, you can be rest assured that if you have a question about a tool you will get the help you need!
And one gets access to all the tools info and guides just by being a member.
A Priceless feature for sure.
Affiliate marketing (& Other) Guides
Members (including networks Affiliate & Traffic Sources Managers ) and forum moderators often post Guides in the forum.
Think of any subject related to affiliate marketing and there will be a guide inside affLIFT Forum to explain the topic (in more detail than you'd imagine and some times even want!).
Whether this will be about Landing Pages and best practices or a guide on topics – which you'd always wanted to ask but didn't know anyone to do so – like clickloss!
(By the way, Click-loss basically explains why when you buy X clicks your tracker reports less etc).
What's interesting about Guides is that some of them are actually posted in the Public section of the forum.
So even free members can read them and learn from them.
And as with everything posted on affLIFT Forum, help is just one message away.
Meaning that if you're not sure about something or want more info on anything on the guide, you'll get your answer almost immediately.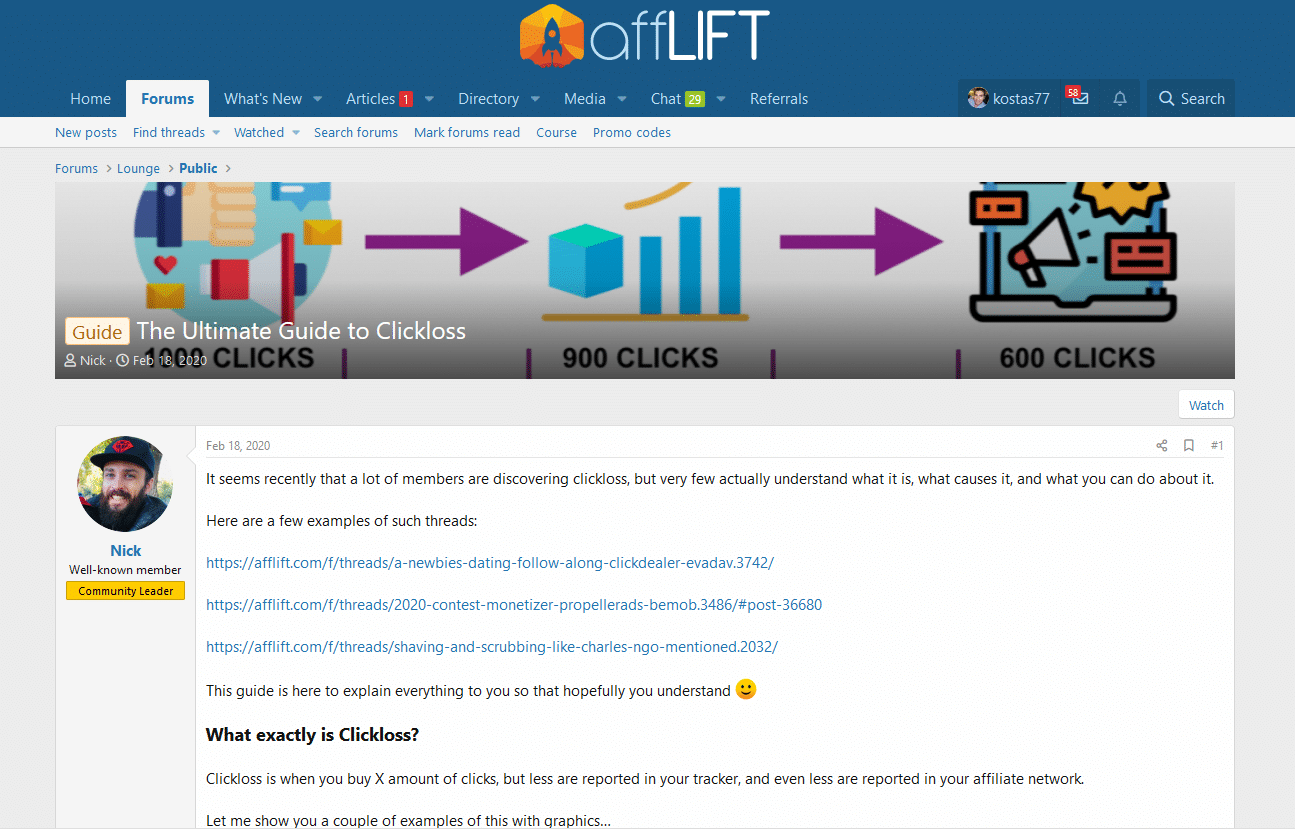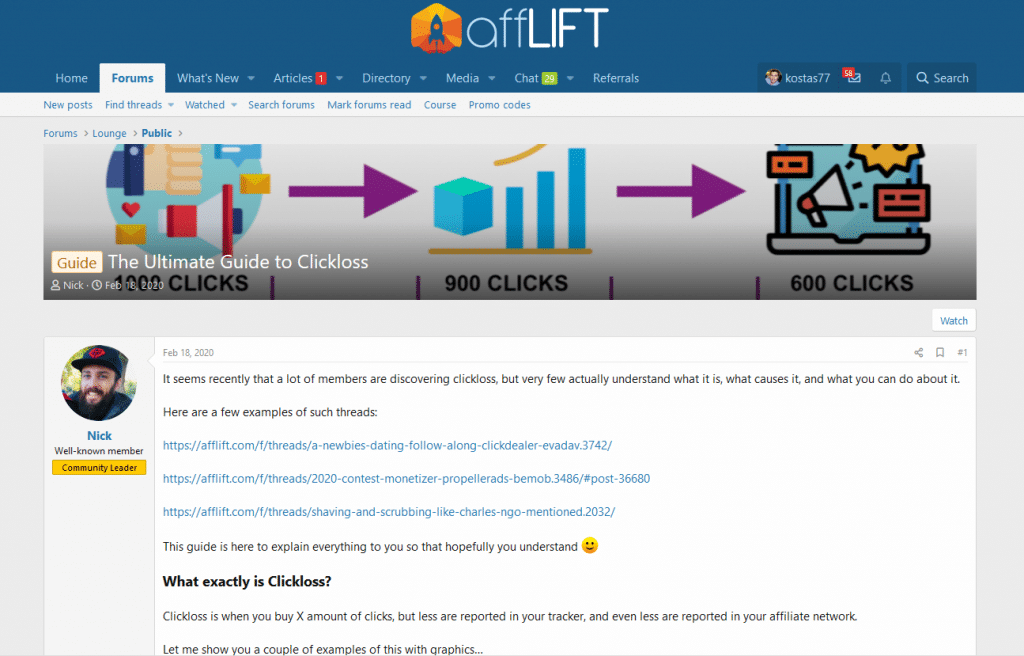 Growth
The affLIFT Forum just keeps growing.
And this is always a good thing for its users.
I got an email from Luke – the owner – the other day stating they've had over 2700 new threads and 17500 new users in 2020 alone.


To me that shows an active interest to grow and evolve.
This is always a positive thing for any business (online or not).
And it's definitely a good things for anyone using the forum.
Everyone Is Here
Another great thing about affLIFT Forum is that because it's getting so much traction, you will find everyone who is anyone from the industry, participating in the forum and/or having their very own threads.
You will find affiliate managers from well known affiliate networks…
Managers from all the known (and some unknown) traffic sources…
Developer of tools that you most likely already use (like trackers) and Of-course some super affiliates.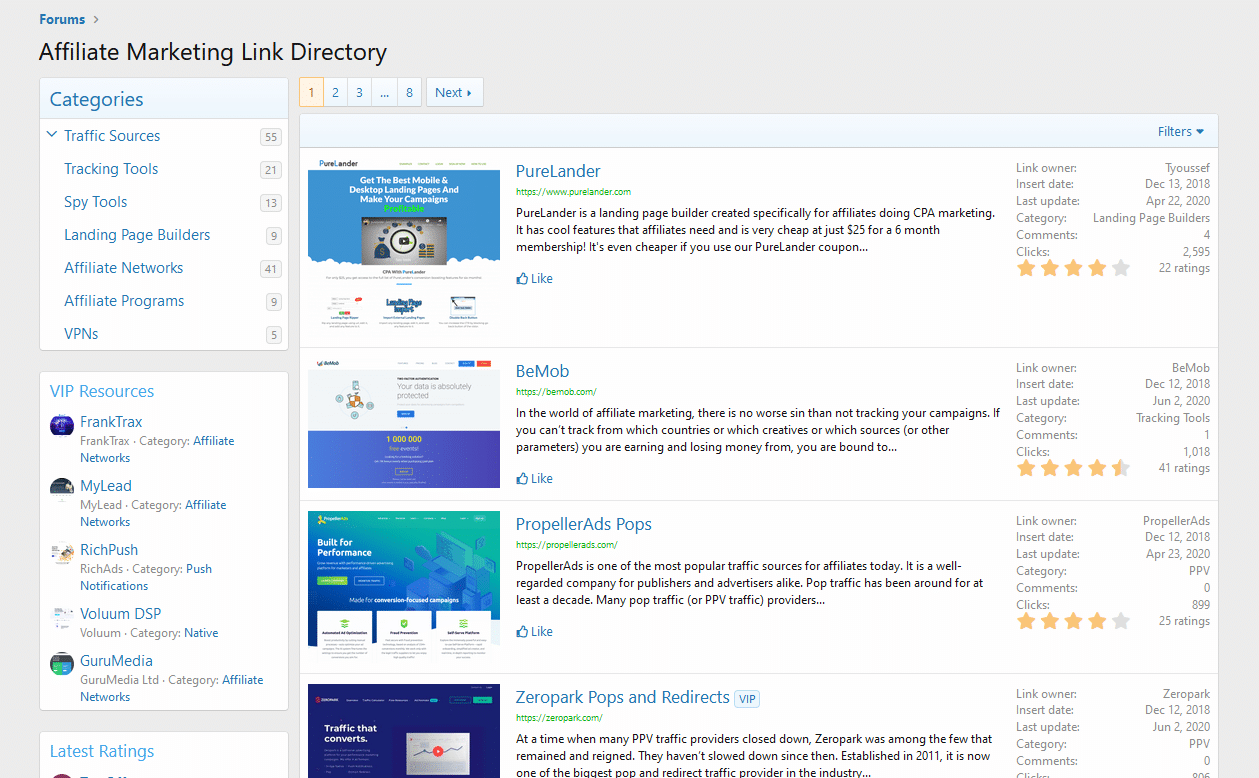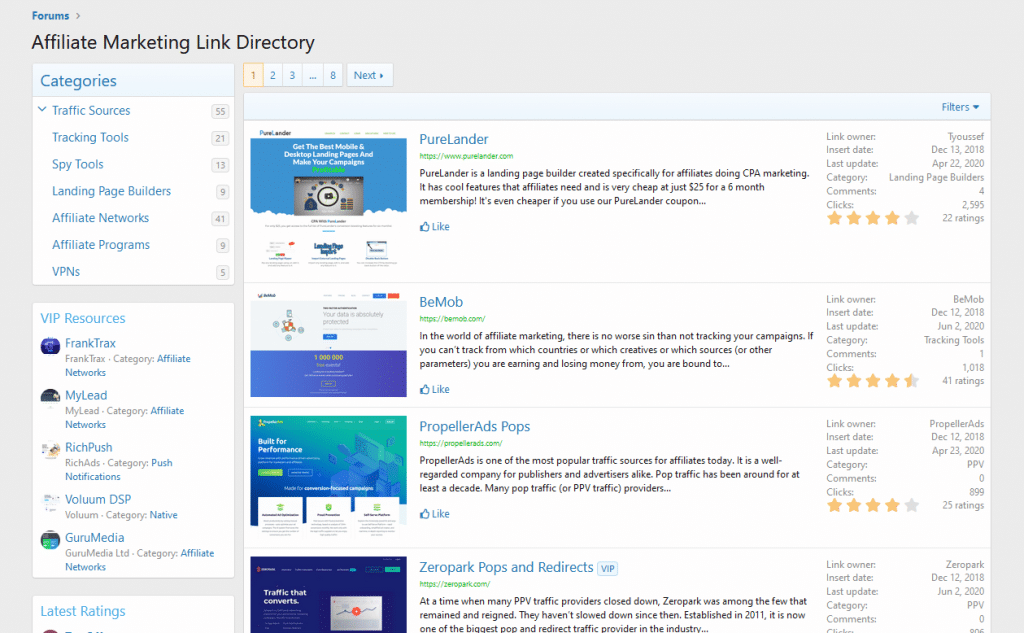 The best thing about this is that if say you have an issue with a provider (affiliate network, traffic source etc) – it happens some times – and you start a thread, you will get the right eyes on that issue almost immediately.
Because Luke – watching every thread posted in the forum like a 🦅 – will tag the people affected/related to your matter…
So your issue gets the attention of the right people (e.g. the manager of the service provider you mention etc).
And 9 times out of 10 you will get that issue resolved in no time.
And what's more, you probably end up better than going at it alone via that service providers' support desk.
This is because the service providers will want to make sure they are (or at least they want to appear to be 😁) as supportive to their customers as possible.
You see, if I am a member of the affLIFT Forum and I use a certain service provider, chances are other people will be or already using them too.
If I don't have a good experience with their service and I state this on a thread, some of the thousand other members of the forum will see that too.
So it's in each service providers' best interest to attend to my matter promptly and efficiently otherwise they will start to lose business.
It works both ways of-course.
You get your issue solved and the service provider gets to show they care and take care of their clients.
Exposure For Own Products & Services
The affLIFT Forum is also an excellent place to post case studies of your work.
This will get you massive exposure.
(If your work is valuable to others too that can only means a positive thing)
And if you're a coach, an info product owner or you have a tool/software/service that does something useful for others, it basically means free (& quaified) traffic for you!
I know many people who sell info products and/or tools that have posted their work on affLIFT forum and have made an offer to help teach people the same or provided special prices and trials (for tools).
I am on of them.
I make my living online mostly offering done-for-you services (via an agency) and from running affiliate marketing campaigns.
However I also sell my own info products & coaching services.
This is mainly for people that I can't help via the agency or when I want to qualify them for 1-on-1 coaching et al.
So when I wanted to gain some eyes on stuff I do and wanted to share, I posted a case study of my Omnifarious Method on an affLIFT Forum thread Here.
As a result of that, I've had many people purchasing my video case study on promoting CPA Affiliate Marketing offers in the Adult Vertical.
I even posted an unsolicited video review of the forum back then to show my appreciation for the new (& free) business I got.
What's more, I've even had Affiliate Managers reaching out asking me to promote their offers as a result of the exposure of that thread.
Room for Improvement
While you can say I've got my reasons to be a bit favorably biased towards affLIFT Forum…
…that's not to say that there are not a few things that I'd like to be or become better…
One of them is the ability to get the right information when needed.
What To See First
This is most likely a side effect of affLIFT's rapid growth, but when I first joined in 2019, there was no clear way on what to see first to get started.
And while I personally didn't need much guidance because of my experience in the scene, I've had students that joined and felt a bit lost.
Luke (the affLIFT Forum Owner) is trying to keep people organized by emailing them often (almost daily) with new things that worth taking a look.
So my point above was more for people having just joined the forum.
CPA Affiliate Marketing Focused
Another thing to take note is that the forum feels very CPA affiliate marketing related.
This is not necessarily a bad thing.
But if you want to cover affiliate marketing on the whole, you need to cover "traditional" affiliate marketing too.
☝️ Think about promoting digital offers WSO, JVZoo, Clickbank style/platforms and tools related to that type of affiliate marketing.
So while you will find pretty much everything there is to know on how to best run CPA type affiliate marketing campaigns (including traffic sources et al), you'll get much less info on what I call traditional affiliate marketing.
Just not that in the open as is the case with everything related to CPA affiliate marketing.

This may have been on purpose.
Not sure.
But being an Omnifarious Marketer myself – and that alone means to use all tools available to get the job done – I'd have liked the whole affiliate marketing scene to be covered in full 😊
More Free Content
Another thing I'd have liked to see going forward is more "free" content in the public section of the forum.
affLIFT is free to join but to get to the "juicy" stuff – and everything else that comes from it like I mention above – you need to become a paid member.
While I honestly think the value you get for being a paid member far exceeds the $20 bucks for the standard membership, it'd be good to see more quality content in the public section of the forum.
Even in the form of a teaser content.
Is It Worth Joining Afflift Forum?
In concluding this review on the affLIFT Forum, I'd simply say this…
If you're new to the CPA Affiliate marketing scene, then becoming a full member is highly recommended.
It's one of those things you call a solid investment of time and money.
Luke – the owner – will take care of you.
And he is clearly a smart marketer (and this is said in a good way).
He has priced something that in my opinion could worth a lot more to a very affordable monthly price of $20 bucks, so more people can join.
Even if you just visit the forum once per month and get some info out of it, it's still worth the investment.
You can say his pricing strategy means more people equals more money.
It's easier to pay $20 than $100 per month.
But at the same time more people means more time & resources devoted to help these people.
And I've seen this myself.
Every member gets attention!
There is no thread that I've seen posted and has no reaction from Luke, even in the form of a like, if not his personal participation in that thread.
Last but not least, when you join the affLIFT FORUM, you'll immediately feel you're part of the CPA Affiliate Marketing scene.
You'll (also) be a member of the tribe.
And like Seth Godin says "…people like us, do things like this."
I'll be updating this article as I continue using Afflift.
P.S (You can always thank me with some coffee☕)…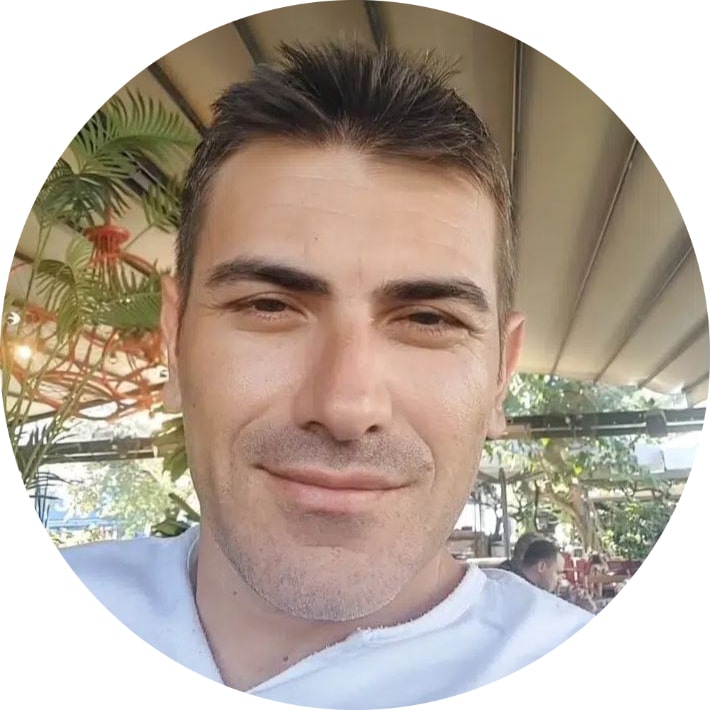 Kostas "The Omnifarious" Papadakis